The end of the Bible College school year ends this month. Our six campuses are in final preparations for the end of classes and finals. Our graduation will be in April during the family camp. This year is a little lower than normal with about 90 students this year.
We have had a wonderful year and expect 19 students to receive their Bachelor degree this graduation. The result of 4 years full of work and development, both in knowledge and character development. We expect to see many new churches come out of this group of graduates. The past year. 6 new missions have been planted. At the current time, we have seen 12 new missions planted in the last 5 years. It is our joy and honor to be part of this kind of church planting ministry.
Another event that was a highlight this month, for two reasons.  First, it was the wedding of one of Pastor Kids.   Kezia is actually the daughter of Pastor Melchor Boniog.  He and His wife are both out of our ministry.  God has allowed us to work with them for more than 25 years.   He pastors  a very active and growing work that is the location of one of the campuses of Bible Baptist Seminary of the Philippines, Inc.   It has been a true blessing to know and work with thi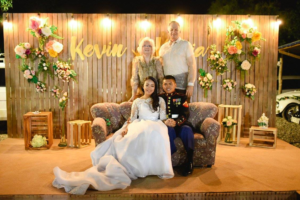 s family.
The second reason this was a highlight occasion, Kezia married a young man who actually joined the US Marines two years ago. It was a joy to be in the wedding for a fellow marine.  The wonderful news is that Kevin has plans to return to the Philippines at the end of his enlistment, attend our Bible School and plant a mission in the future.  Kevin is the brother of a young man, Raymond, also from our ministry who has started one of those new works that is about 4 years old.
Because it has been 46 years since I was active in the Marines, and spent some of that military time in the Philippines,  Kevin me this bumper sticker. The old adage, "once a Marine, always a marine"   HUUUAHH